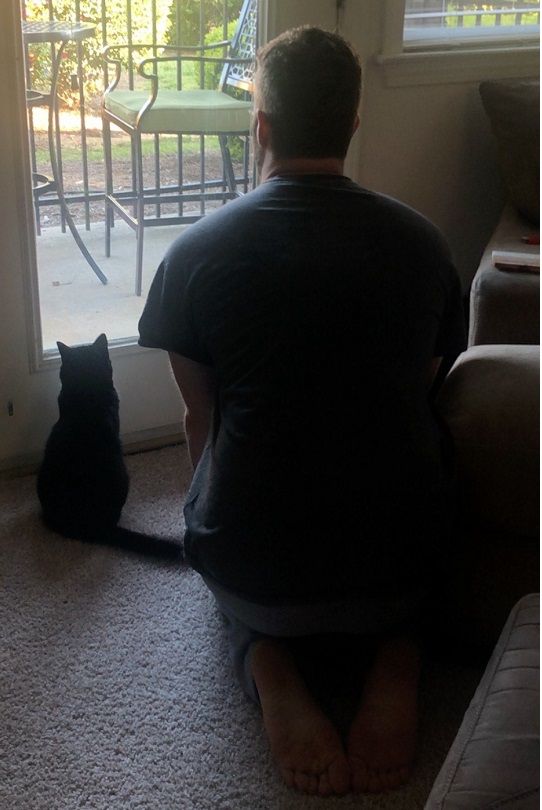 She is doing amazing, she loves to lay on my bed by the window all day and snuggle at night time. Every few hours she gets the zoomies and runs around my apartment and then goes back to sleep, its so cute! She has truly come out of her shell and will come when you call her to snuggle. Some nights she will sleep at the foot of my bed but most nights she sleeps right on my chest or stomach! I wanted to thank you all again for giving me the chance to love such a great cat!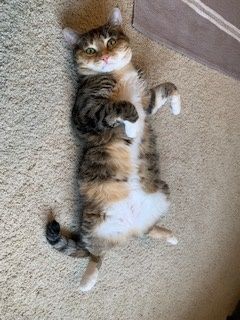 We renamed Delight to Pippa Olive Oliverio!! My husband and I both love her very much. She's so sweet. Loves cuddles, but also likes being on her own on a bed somewhere. Still loves her food!! She has been working from home with me and has made an excellent co-worker! Ha! I'm so grateful to have Pippa. She's perfect for us and is a perfect fit in our home. We think she likes it here, too! ❤️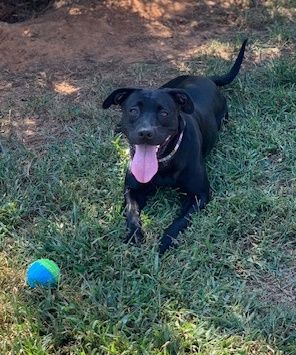 We got Nana (who was previously called Hannah) over a year ago now, and we could not be happier. She brings so much joy and love into our home, and she's even an official emotional support animal. She loves to play, snuggle on the couch and put her cute head on my lap, and try to do yoga with me. She will go on runs with me and play-wrestle with my husband. She's interested in everything and never fails to be the life of the party. At our old place where we lived, I taught her how to go down the slide. At first she was scared and held onto me, but then she was able to slide down herself. So, whenever we walked by the playground and no one was on it, we'd run over to the slide and slide down together. My husband and I love Nana. She adjusted so well so and so fast. She's goofy and so smart at the same time. She adapts to routines and scenarios so quickly but will also get so excited that she runs into things. We love her so much. I can't believe we found each other. Thank you for allowing us to, HSYC.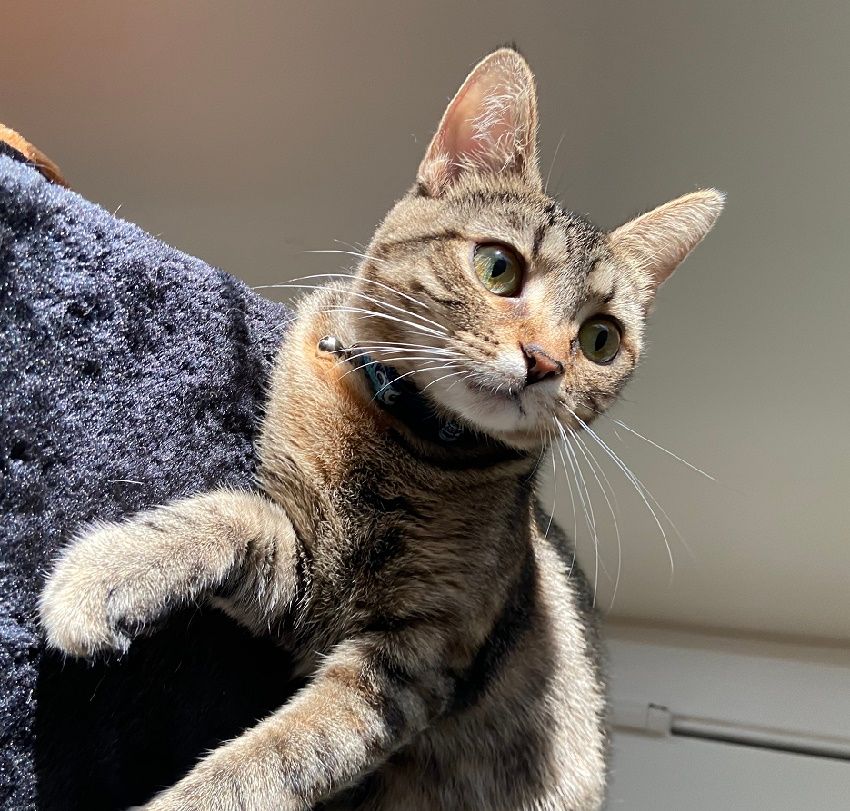 She loves her chin scratches and laying in our window to catch some sun, as well as waking us up at 6 am by meowing to let us know she's ready for her breakfast. Thank you all so much for allowing us to make her a permanent part of our family. We couldn't have asked for a better outcome.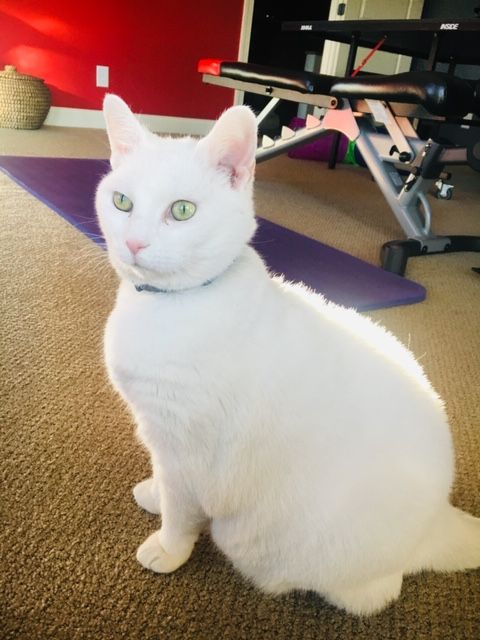 She is getting more and more comfortable at home. We are sure she will be happy at her forever home!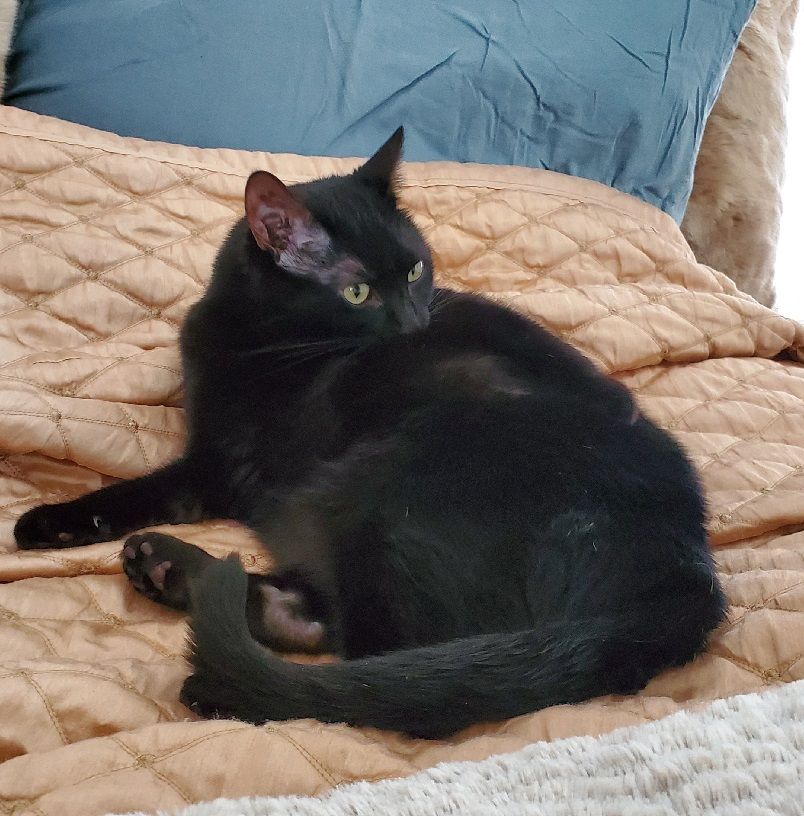 Tessa is sooooo happy and purring. Her 2 brothers are anxiously waiting to meet her. She will have the best life!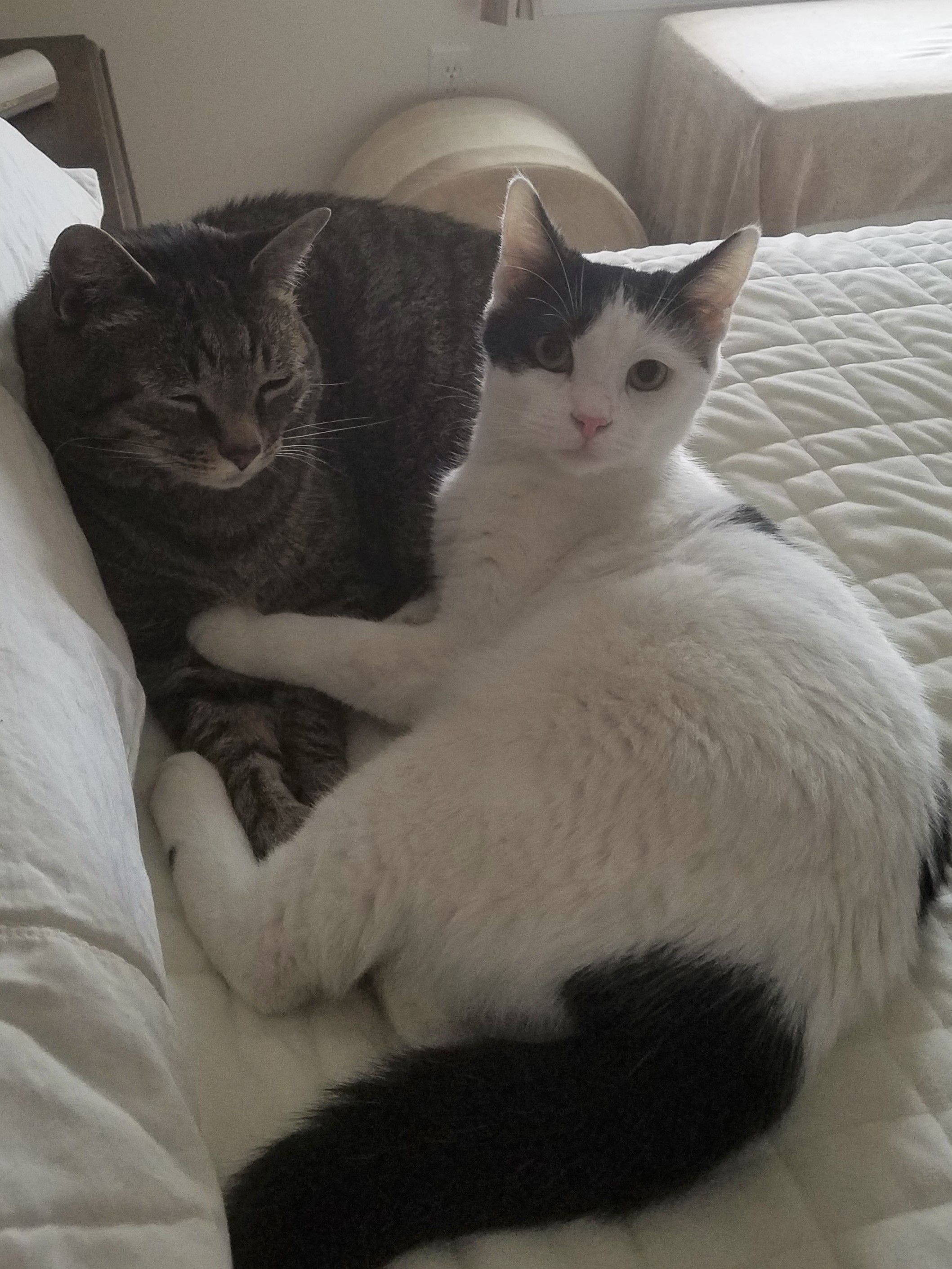 Twitch (formerly Nez) has 2 speeds: passed out and full throttle. He is a little more into Taz than Taz is to him (at least now) - they don't fight but Twitch definitely wants Taz's attention a little more than he cares for but they have their sweet moments like you see below in the pic. He loves toys, all of the toys, especially plush little balls - he can play with them all by himself for hours. He will carry those balls all over the house. After he sleeps he will crawl into my lap to snuggle and likes to put his paw on my face. He has a lot of windows to look out of it and he takes full advantage. He is a handful but a wonderful handful - he's just so loving and makes me laugh everyday. Thank you for caring for him and keeping him safe until I found him.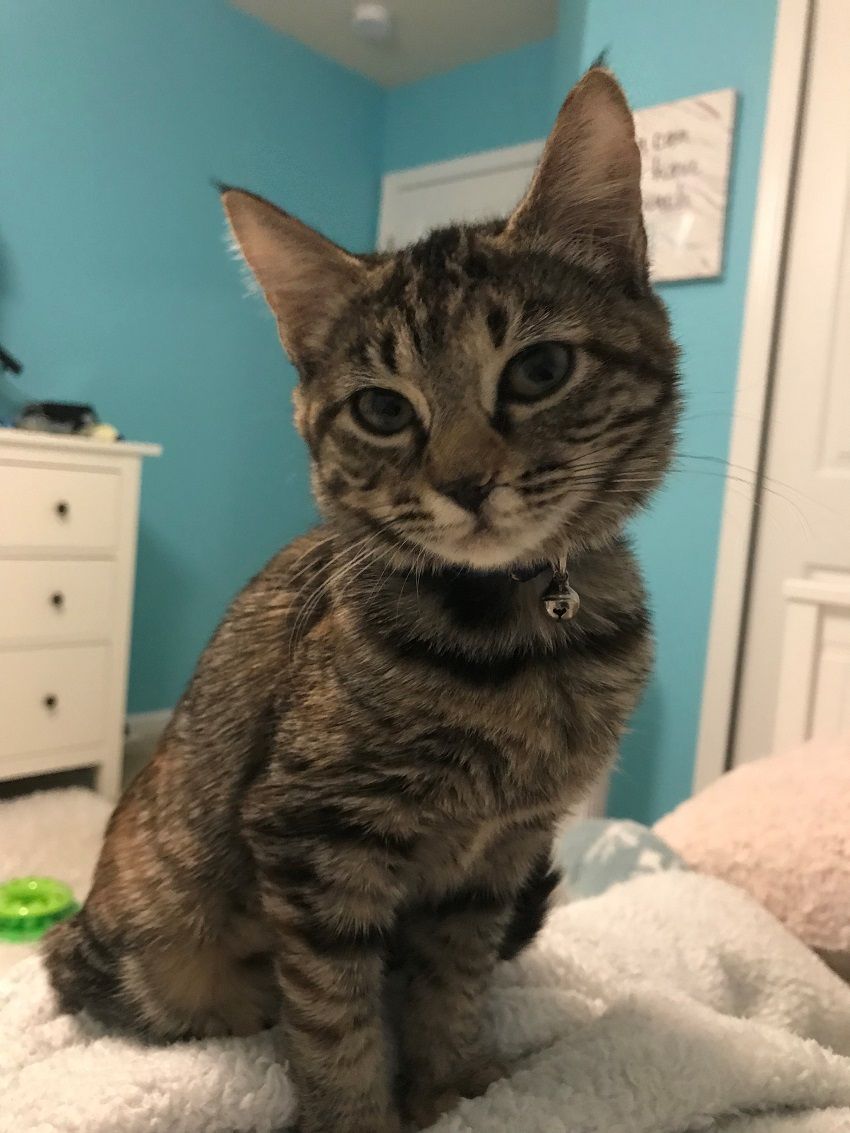 Sophia, now Harlow, has been doing amazing in our home the last few months. She has finally become besties with our 9 yr old dog, Rudy. Harlow loves to keep Rudy on his toes and chase him around the house. She has been the perfect addition to our family!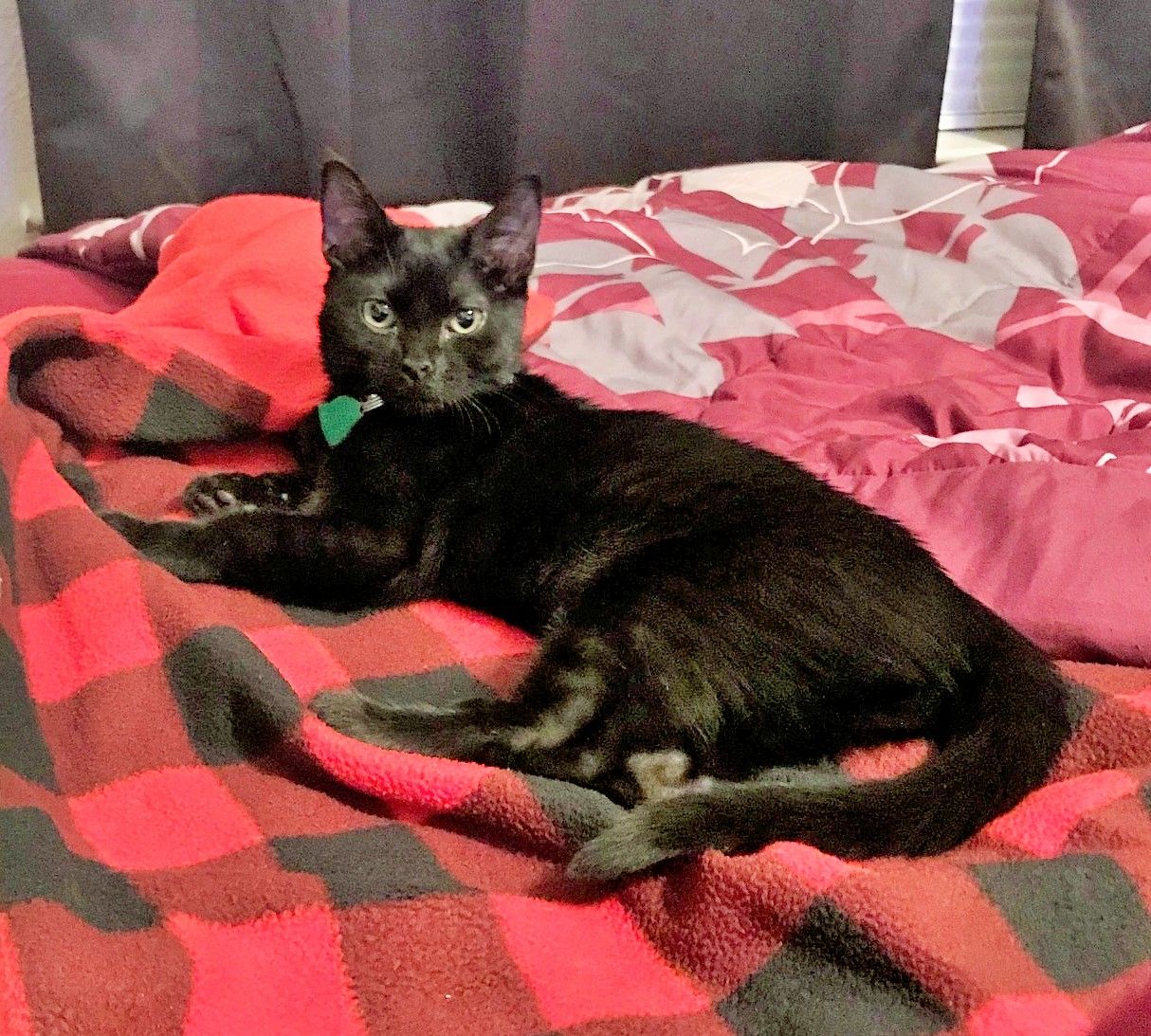 Gay, now Lax, reLAXing in bed!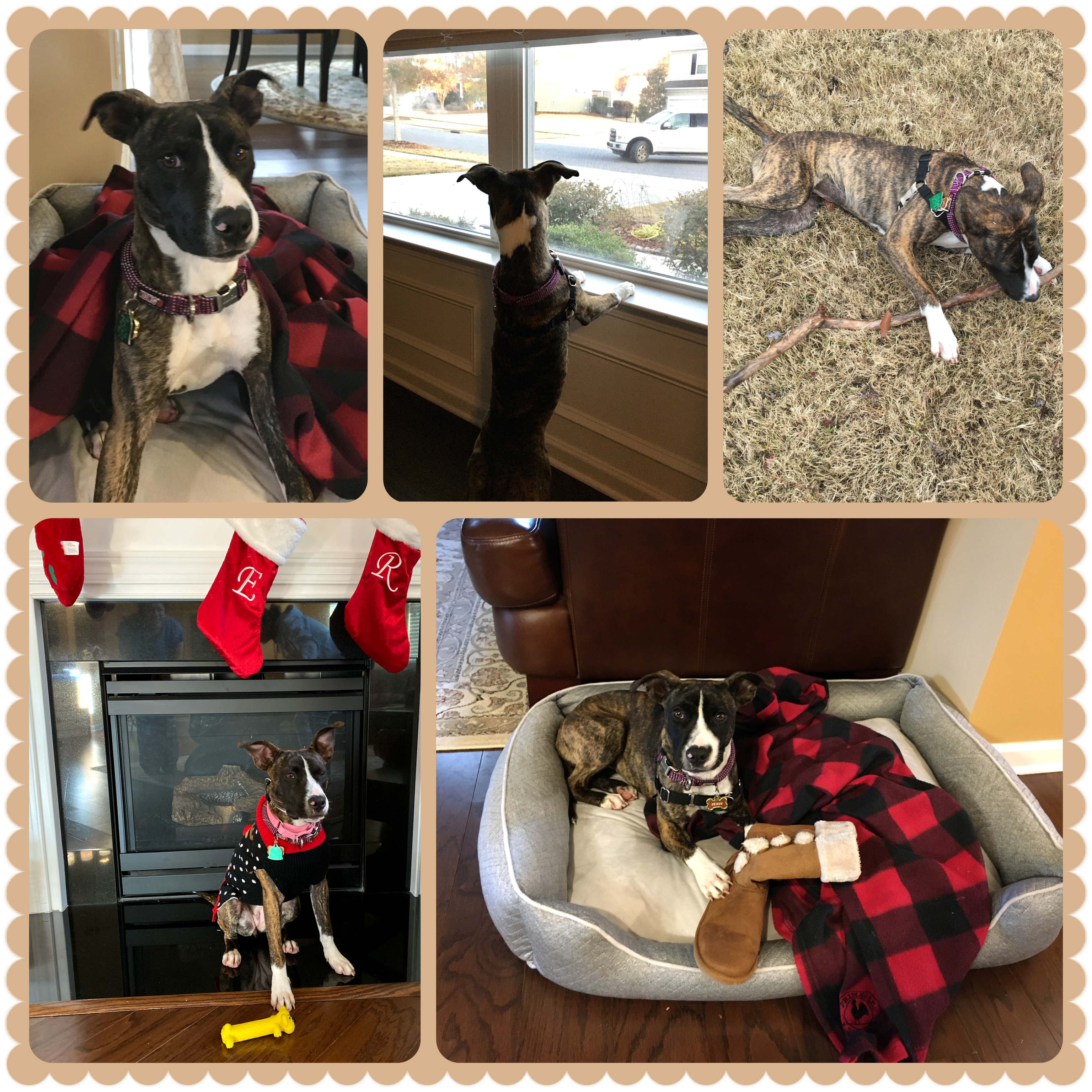 We have had Venus for 2 months now. She is the star of our house and we all adore her! She loves going on walks with Dad, rolling in the grass, chewing on sticks, stealing our shoes, playing with her little yellow dog and sleeping with her red blanket. But her most favorite activity of all is running to the window to say Bye when anyone leaves the house. Venus loves people, especially kids. She is a very smart dog and has learned a lot very quickly over the last couple of months. She is currently in training, picking up skills on good behavior during walks and being nice to other dogs.