About the Buy A Brick Program
Our "Buy a Brick Program" gives you the opportunity to make a lasting memory at the Humane Society of York County. Purchase your own "brick" and help lead the way! Your message etched into your own brick gives you the chance to honor your favorite pet, loved one, fellow animal lover, or to show your company's support for the HSYC.
The program was initiated to help raise funds needed to move into our current location. We needed approximately $200,000 towards moving and building renovations costs. The larger facility enabled us to provide a better environment to care for more pets (approximately 125 cats and 50 dogs). The Path of Hope has been such a tremendous success in offering the community a venue to express their affection for an animal or loved one that has touched their lives.
We continue to offer the community the opportunity to be a part of such a mystical garden while continuing to raise ongoing funds needed to care for our pets and the upkeep of our facility. Your contribution will help:
Fund basic food and medical supplies for our pets.
Fund basic supplies towards building maintenance.
Budget towards our future goal... of obtaining a larger facility to help more abandoned pets in need in York county! Our needs are continually growing!
Order a Brick
By buying a brick in our Path of Hope, you will be supporting HSYC while beautifying our rescue surroundings.
Option 1  |  $50 - 4" x 8" engraved brick; 3 lines of text; 18 characters per line. Add a symbol for $10 extra (per symbol).
Option 2  |  $125 - 8" x 8" engraved brick; 6 lines of text; 18 characters per line. Add a symbol for $10 extra (per symbol).
Option 3  |  $500 - 16" x 16" (array of 4, 8" x 8") engraved bricks; 6 lines of text; 18 characters per line. Includes text, symbols, and logo engraved over the bricks. 
Display a Brick Option | 50% of the regular brick price listed above. This is an exact duplicate of the Path of Hope brick that you can display in your home or office. Includes felt back and display stand. This option applies to any donor when ordering your Path of Hope brick.
Note: We hope for a minimum of 15 bricks and will place your order in bulk accordingly. Thank you for your patience and continued support.
The HSYC is a non-profit organization, so your donation is tax deductible. The net proceeds from all brick sales go towards the monies still owed for the renovations of our facility and ongoing expenses for the care of our animals. We thank you for your support.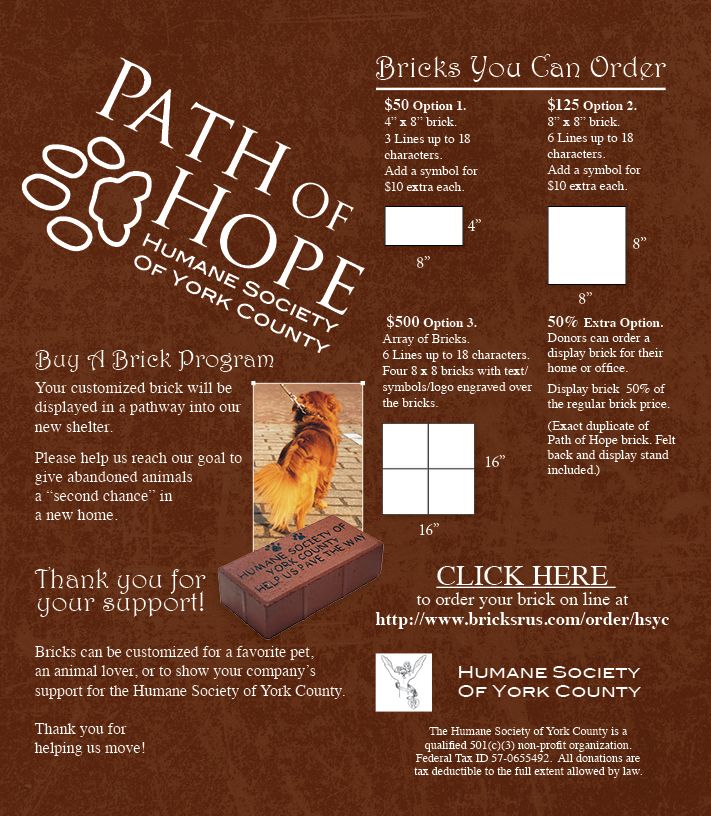 Contact Information
If you have questions regarding the HSYC Path of Hope Brick Program, please email contact@humanesocietyofyorkcounty.org or call 803-802-0902.