Mary Beth Knapp
Board Member, President (2014 - Present)
Active volunteer since 2009.
Board Member since November 2010.
Chair of the Fundraising committee since 2009, including the Dog Gone Good Time Festival, Paws for Life Celebration Gala and other committees.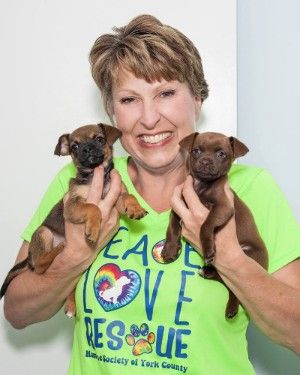 About Me
My husband Mike and I relocated to Fort Mill in July of '98 from Colorado Spring, CO. We moved across country with my precious pets: Bear, Zach and Ms.Kitty all of which have sadly crossed the rainbow bridge. Surprisingly, we made it in one piece after traveling 3000 miles with 2 dogs and a cat in my vehicle! We came to the area to live closer to my husband's children. My step sons are now grown and living on their own in the area. My heart belongs to my fur family which includes my Precious, Lenny, Hootie (HSYC Alumni), and Haus aka: Hot Sauce (HSYC Alumni), Emily and Harley.
After moving to Fort Mill, I continued my career as a project manager. After 20 years in corporate America, I made a very big change and became a nanny for several years. While on this journey I ventured into PAWSibilites Thrift Shop and was hooked! I started volunteering at the thrift shop, then found the rescue and my heart was bound! Not long after, I was managing fund raising events both small and large, joined the Board and participated in the move of our rescue into our current location. I am so happy that since being involved, we have grown and added wonderful, dedicated people to our effort of saving pets. Volunteering is more than an action, it's a commitment and passion to make a difference one life at a time.
It's a privilege to be involved in such an amazing effort of saving lives, educating the public, being involved in change and making a positive impact on our community. Please join the movement and volunteer your TIME, TALENT and TREASURES today!