Spaying and neutering your pets helps reduce overpopulation and therefore reduces the number of animals that end up without loving homes.
In 2017, we are proud to partner with PetCo Foundation to provide a No Cost Spay Neuter Program for low income York County Residents.  More information on this program can be found here. 
---
In the efforts of supporting our community, the Humane Society of York County is partnering with the Carolina Place Animal Hospital for our Low Cost Cat Clinic.  Owners can contact Carolina Place directly (Phone at (803) 547-3547) to schedule spay neuter service for their feline.   Owners pay a co-pay up front and the HSYC pays the rest.   Limited space is available on a first-come, first-served basis.  

---
We haven't overlooked the dogs.  Our Dog Clinic is in partnership with the Committee for Responsible Pet Ownership (CRPO):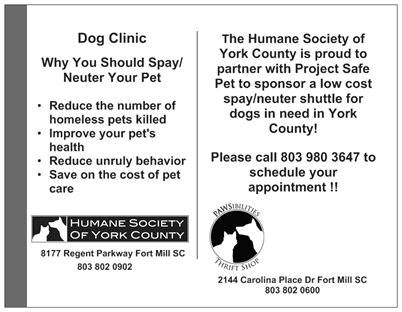 The Humane Society of York County gives monthly to these programs to help minimize the number of unwanted pets born daily. But we cannot do it alone! Join the team and DONATE today (specify 'Cat Clinic' or 'Dog Clinic' in the comments). Thank you in advance.
---
In addition, we recommend the following low cost spay and neuter resources:
The clinic offers low cost spay and neuter services to residents of York, Lancaster, and Chester counties as well as Mecklenburg.  With a convenient location in Pineville, they also provide an array of wellness services for your pet – even special Puppy or Kitten packages which includes everything to give your new family member a good start in life.  You can schedule your appointments online at their website or call 704 970-2711.
Charlotte Humane Society Spay Neuter Clinic
The clinic is open to the public and appointments are required.  Approximate costs for spay and neuter services are as follows:
Dog spay $75; Dog Neuter $60 
Cat Spay $50; Cat Neuter $30
All vaccines $10 each!! Please call either Toomey Avenue 704-333-4130 or the Byrum Avenue 704-426-1053.
Committee for Responsible Pet Ownership (CRPO)
Call (803) 980-DOGS (3647) to make an appointment for spay and neuter services.
Free Community Spay/Neuter Services (Mecklenburg County Residents)
This is a service for Mecklenburg County residents provided by the Charlotte-Mecklenburg Police Department's Animal Care & Control division. 
Spay/Neuter Carolina
This organization offers a monthly clinic with no special requirements.  Services are available to North and South Carolina residents and low cost shots are also available if needed.  Approximate costs for spay and neuter services are as follows: male and female dogs $55; female cats $55; male cats $35.  Call (704) 504-2904 to make an appointment during the next available clinic date.  You can ask for details and current pricing by sending an email to spayneuter@GitFixt.com or calling 704-504-2904.
Spay USA
We also recommend that you check the online resource http://SpayUSA.com.
Vaccinations:
If your pet has already been spayed or neutered and you are looking for low cost shots and medicine, we suggest PET MED.  PET MED is a mobile service offering low cost rabies and DHPP shots and flea, tick and heartworm medicines.